Service

Porsche Oklahoma City Service Department
Keep that Porsche 911 purring like a kitten or the Porsche Cayenne reliable for your family with regular service. Trust the Porsche service and repair of Porsche Oklahoma City for routine maintenance and special repairs. Our skilled technicians are trained on Porsche technology and systems for fast and accurate diagnosis and efficient repairs in the Oklahoma City area.
From oil changes to tire repair, the service team at Porsche Oklahoma City can help your model run longer and maintain its value. Whether you need mechanical work or body repair, you can trust the team at Porsche Oklahoma City. Schedule an appointment or just stop in for fast service.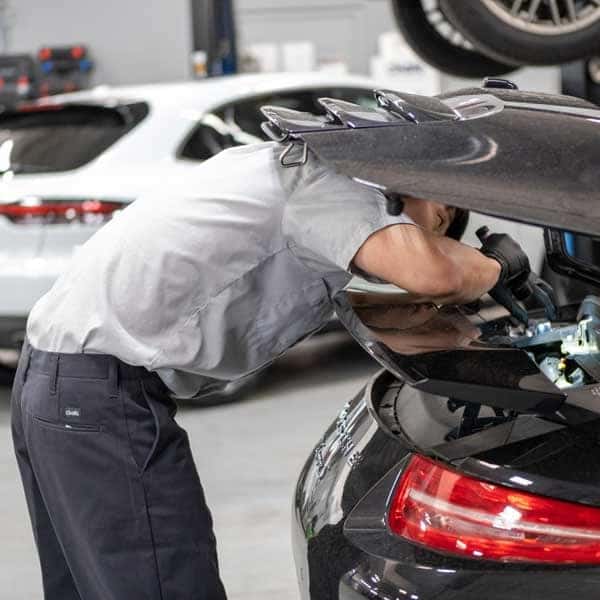 Service Your Porsche Regularly
Here at Porsche Oklahoma City, we recommend following the manufacturer's guidelines for your Porsche model. Routine maintenance will help keep your vehicle problem-free for years to come. The service technicians can detect any problems before they become major issues. We also use OEM parts to work with your Porsche systems.
No matter what issue may be plaguing your Porsche vehicle, you have the knowledge and experience of trained and certified technicians on your team. With the roll-out of Tech Live Look, your local technicians can tie into experts on a support team based in Atlanta to diagnose and repair those complex issues that may come your way. A whole team of Porsche experts will have your vehicle running like new and get you back on the road in no time.
Why Choose Porsche Oklahoma City?
Our service department is trained and ready to help you keep your Porsche Boxster in prime running condition. These experts take their knowledge of Porsche components and systems and put it to work in the real world. From inspecting systems for leaks or other problem issues to making major repairs of the engine or cooling system, you can rely on the service department at Porsche Oklahoma City.
Set up an appointment to service your Porsche or to make repairs that keep it running smoothly. Fix any scratches, dents or other physical flaws with a first-rate body shop that keeps your Porsche looking and sounding like it did when it left the factory.
Schedule an appointment for service today at Porsche Oklahoma City. Let us keep your Porsche running today, tomorrow and for the future with first-class service and repair on all Porsche models.