Whether you're in the market for a practical SUV like the Porsche Macan or Porsche Cayenne or looking for something sportier, such as the Porsche Panamera or Porsche Taycan, you'll find just what you want right here at Porsche Oklahoma City. We offer a wide selection of models for buyers in Oklahoma City, Edmond, and Midwest City.
---
New Inventory
Large Selection Of New Porsche Vehicles in Oklahoma City

With a reputation for excellence and innovation, Porsche has been building vehicles to appeal to an astute group of buyers for nearly 100 years. Check out the Porsche Boxster, 911, or the Porsche Macan. While trends change, the dedication to quality never will. Porsche continues to strive to meet the needs and desires of customers by providing more than just a vehicle, but a complete driving experience.
While the first automobile under the Porsche brand dates back to 1948, the history of the automaker goes back even further to 1930. Within a few years, the manufacturer became involved in racing cars, which is still a part of the brand today.
Not sure which model is right for you? Read our model reviews to find out more about what each one has to offer. We'll compare some of our Porsche models to the top competitors, so you can see why Porsche stands out as the best.
We have an extensive selection of new Porsche vehicles, including top models such as:
Boxster | Cayenne | Cayman | Macan | Panamera | 911
Porsche is best known for the 911, a racecar that has expanded beyond a single car into an entire lineup, including the 911 GT3 and 911 Sport Classic. These models are made for speed and precision with a lightweight design and smooth handling.
The Porsche 718 is another exciting performance coupe with a low profile and aggressive stance that commands attention. Like the 911, it offers multiple models to fit any driver looking for a thrill. Another model with mesmerizing design is the Porsche Taycan. Sharp angles and sleek lines command attention with precision performance to make your heart race.
As the Porsche sedan, the Panamera combines the luxury and comfort of a four-door model with the sporty attitude you've come to expect in all Porsche models. Offering a hybrid version, you can enjoy more efficient performance.
Porsche expanded its lineup to include luxury SUVs that are a step above the rest. The Porsche Macan is a compact SUV loaded with luxurious amenities with the attention to detail you expect in a Porsche. For more space for the family, you'll enjoy what the Porsche Cayenne has to offer. This model also comes in a hybrid, making your family trips even more efficient.
For ninety years, Porsche has been cutting edge. Since its first significant project assigned by the German government, which was the Volkswagen Beetle's birth, the company has been setting trends. That is still their position in the automotive world, nearly a century later. Take a look at our New Inventory of Porsche vehicles in Oklahoma City or view our current specials on new vehicles.
---
Pre-Owned Inventory
Premium Used Cars For Sale In Oklahoma City

If your shopping is focused on getting a great deal on a quality pre-owned vehicle, our pre-owned and certified pre-owned inventory is substantial. All of our pre-owned vehicles are considered premium options. However, the Porsche-Approved certified pre-owned models carry a 2-year unlimited mileage warranty and 2-years of roadside assistance.
To qualify as a Certified Pre-Owned (CPO) model from Porsche, the vehicle undergoes a 111-point inspection. The technician checks mechanical and visual elements to ensure they meet the standards. Any repairs or replacements that have been made have been performed by technicians trained and certified on Porsche models. Only genuine Porsche parts are used to restore these vehicles to like-new condition.
Once you buy a CPO Porsche, you have peace of mind with 24-hour Roadside Assistance for the duration of the warranty. You can call for a battery jump, flat tire service, lockout assistance, and more with this assistance program. There is no deductible with the warranty and repairs can be made by any factory-trained technician.
If you're buying your first Porsche, you may want to make a smaller investment with one of our pre-owned models. You can trust our CPO models to be just as reliable and exciting as the new vehicles but at a lower price.
---
Financing
Quick & Easy Financing

Get financing here at Porsche Oklahoma City to help you get into your new or pre-owned Porsche faster. Just fill out the online credit application and find out how much you qualify for. The next step is to visit our dealership and test drive a model that fits your checklist. Our helpful sales team will answer your questions and help you decide on the right model. We'll go over special packages and options as you customize your new ride.
We offer leasing and purchase options to help you get into a Porsche. Do you like the idea of owning the latest Porsche model and upgrading every couple of years? If so, then leasing may be right for you. If you prefer to own your Porsche and keep it as a long-term investment, buying may be the preferred option.
You can also take a moment to review an estimate of your current vehicle's trade-in value. We'll help you get into a Porsche vehicle by using your current vehicle as a down payment to lower the total cost.
---
Service & Parts
Quality Auto Repair Services At Porsche Oklahoma City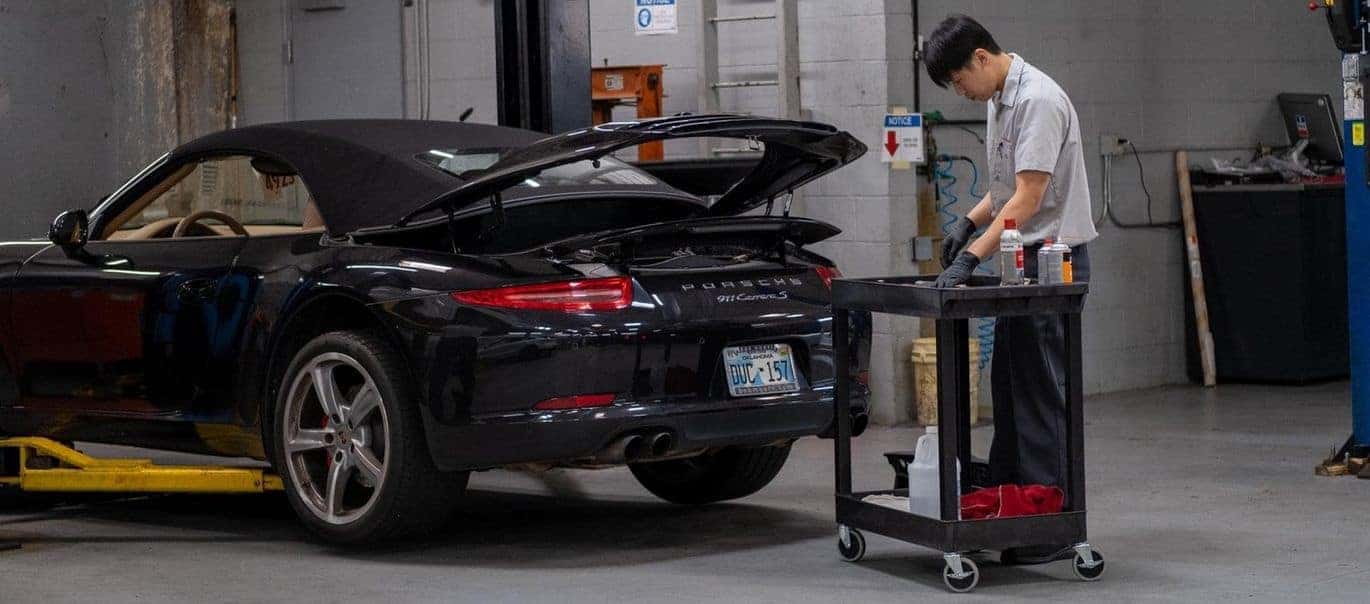 Here at Porsche Oklahoma City, you are more than just a customer. When you buy a Porsche, you become part of a distinct community of Porsche enthusiasts. We want to help you continue loving your Porsche for many years, which is why we provide exceptional service for every vehicle we sell. Our service technicians are trained on Porsche systems and technology to ensure every vehicle is maintained properly and repaired accurately.
We'll even give you a lift back home or the office while we service your vehicle to minimize any interruptions to your busy schedule. We also offer a comfortable waiting area if you prefer to hang out while we take care of routine maintenance for your vehicle.
We keep a large stock of genuine Porsche parts and accessories in stock in our parts department to make repairing or upgrading your vehicle quick and easy. When it's time to replace the battery or buy a new set of tires, you can count on our team to help you make the right decision.
Visit Us At Porsche Oklahoma City Today
To learn more about Porsche Oklahoma City or the models we sell, stop by for a visit. Give us a call to get your questions answered or check out our inventory and services online. Let Porsche Oklahoma City put you into the car of your dreams today.